2023 ASA Personal Property Appraisal Symposium
http://qedappraisals.com/2023 ASA Personal Property Appraisal Symposium
April 30 – May 2, 2023
Kimpton Canary Hotel | Santa Barbara, California

An Experience You Won't Want to Miss

Gain insights into key markets, benefit from scholarly sessions, connect with fellow experts—all while exploring the art, culture and beauty of the Central Coast.

On May 3, the conference includes an optional, full-day post-event tour* where you'll visit the Santa Barbara Mission, Santa Barbara Courthouse and Santa Barbara Museum of Art. See agenda tab for details.
This program qualifies for up to 15.9 hours of CE credit.
Event Sponsors: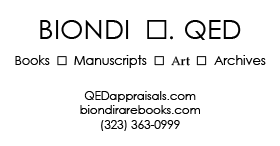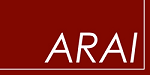 ---

Agenda
California Arts and Appraisal Practice: Yesterday, Today and Tomorrow
The historic and beautiful city of Santa Barbara, California, will be the site of the 2023 ASA Personal Property Appraisal Symposium, to be held at the Kimpton Canary Hotel in downtown Santa Barbara. The hotel is within a short walk to many restaurants, galleries, shops and museums.

The symposium program has been developed to balance connoisseurship, methodology, and business practice by presenting a broad variety of expert speakers and panelists. After a Welcome Reception on Sunday, April 30 at the Kimpton Canary's rooftop patio, presentations will begin Monday morning and include:

Sunday, April 30
4:00pm - 7:00pm

Registration/Check-In

5:30pm - 7:00pm

Welcome Reception
Holly Mitchem, ASA | Mitchem Fine Arts - Conference Chair
John Henley, ASA | John V. Henley, LLC
Monday, May 1
7:00am - 8:00am

Breakfast


8:00am - 8:15am

Welcome & Opening Remarks

8:15am - 8:45am

Brief History of Santa Barbara

8:45am - 9:45am

Art In California and the Missions
Dr. Pamela Jill Huckins | Associate Professor, Liberal Arts, University of Arizona Global Campus

This session will offer a quick view of the long historical breadth of art production and appreciation in the land that is presently known as the State of California, USA. Under consideration will be pre-Hispanic indigenous arts, their materials, techniques, and uses, as well as their importance today for cultural knowledge and as collectible works of art. Also considered will be paintings, sculptures, and vestments imported to the Spanish missions during the colonial era. The fate of these valuable objects and their demand in contemporary art markets will also be addressed.

9:45am - 10:00am

Break

10:00am - 11:00am

Understanding the Market for 20th Century California Fine Art Photography: A Case Study of Ansel Adams, Imogen Cunningham, Dorothea Lange and Edward Weston
Michael Dawson | Appraiser, Fine Art Photography and Rare Book Dealer, Dawson's Book Shop/Michael Dawson Gallery

Art photography dealer and expert, Michael Dawson will discuss four California photographers of the 20th century who have a global audience. Dawson will provide an overview of key photographs by Ansel Adams, Imogen Cunningham, Dorothea Lange and Edward Weston discussing how photographs of the same image from different eras significantly affect the value of the object. Dawson will discuss variations in signatures, stamps, photographic papers, and aesthetic approaches by each photographer and how these influence value. Within the context of each photographer's work, Dawson will discuss the issue of post humous printing and how it has positively or negatively affected their market.

11:00am - 12:00pm

The Golden Coast of California: Art & Design of the West
Morgana Blackwelder | Senior Vice President, John Moran Auctioneers & Appraisers

Post gold rush, art was made as a marketing tool for settling in the west. As the fifth largest economy, California has a history of self-promotion from Thomas Hill to the Automobile Club.

12:00pm - 1:00pm

Lunch

1:00pm - 2:00pm

Come Alive: A History of Corita Kent
Olivian Cha | Collections Curator, Corita Art Center

Corita Art Center Collections Curator, Olivian Cha, presents a brief biographical history of the artist, educator, social justice advocate, and former sister of the Immaculate Heart of Mary order, Corita Kent. Cha will also elaborate on the unique qualities of Kent's silkscreen prints, from the varied signatures and her inconsistent approach to edition numbers. Additional information will include the commercial representation of Corita's work and the Corita Art Center's approach to licensing and merchandise collaborations.

2:00pm - 3:00pm

The Limitless World of Limited Editions: California Fine Art Publishers
Debra Burchett-Lere, AAA | Executive Director, Sam Francis Foundation

California has been a haven for printmaking since the early 1900s, with an increased focus and international attention to printmaking facilities in the region during the 1960s to present day. As a former director of Gemini G.E.L., Los Angeles during the 1980s, and curator of the Litho Shop, Santa Monica in the early 1990s, Debra Burchett-Lere will highlight some of the exciting print studios over the decades. This presentation will address some of these publishers that continue to expand the limitless creative processes and explore why artists continue to be engaged in this medium.

3:00pm - 3:30pm

Break

3:30pm - 4:45pm

How Big is Big? Managing Large and Complex Assignments
Frances Zeman, M.A., FASA | President, Appraisal Resource Associates
Stephanie Boris | Principal, Art Collection + Estate Services
Analee McClellan, ASA | Sole Manager, Acanthus Appraisals & Consultation Services LLC
Andrea Roth, ASA | CEO, Roth Fine Art Appraisals

The services we provide can be as complex for a single property as they can be for thousands of objects. While every assignment is unique, there are common elements. Panel members will share their approaches to complex and large assignments. Presentation topics will include identifying the scope of work for the assignment, managing client expectations beginning with clear communications and the agreement, competence and determining experts and team members involved, inspections, handling changing scope of work elements, to delivering the final report.
Tuesday, May 2
7:00am - 8:00am

Breakfast


8:00am - 8:15am

Welcome & Opening Remarks
Holly Mitchem, ASA | Mitchem Fine Arts - Conference Chair

8:15am - 9:45am

Create A Marketing Plan To Grow and Scale Your Business
Patty Ross | CEO, Golden State Marketing

Are you overwhelmed by all the choices for marketing your business? Not sure where your time and money would be well spent? Are you just following what everyone else is doing and hope it works for you too? Whether you are starting or growing your business a good marketing plan in place is essential for success. This presentation will give you the basics to create a roadmap for success!

9:45am - 10:15am

Break

10:15am - 11:45am

Mexican American, Chicano/a, Latinx and What Comes Next
Patrick H. Ela, ASA | Principal, Comprehensive Art Services, LLC
Dr. Susana Smith Bautista | Associate Vice President and Chief Curator, AltaMed Art Collection, AltaMed
Angel Diaz, Curator, CEMA - California Ethnic Multi-Cultural Archives, University of California
Maria Esther Fernandez | Artistic Director of the Cheech Marin Center for Chicano Arts and Culture, Riverside Art Museum
Rafael Barrientos Martinez | Curator, AltaMed Art Collection, AltaMed
Dr. Denise Sandoval | Professor, Department of Chicana and Chicano Studies, California State University, Northridge

The panel discussion will present an overview of the rapid development of political, social, and artistic recognition of Hispanic artists in California. It will focus on the past 50 years, particularly on those of Mexican Heritage. Of the 39% of Californians who are Hispanic or nearly 15 Million people, the majority are of Mexican descent. 26 major colleges and universities in California from Stanford and UC Berkeley to Scrips, UC Riverside, and San Diego State University, have Chicano Studies Programs or similar Ethnic studies programs. On top of that, 20 Community colleges in California have similar programs. This rich and diverse society is informed, vibrant, and growing. Their graduates have been a growing presence in the workforce for decades. The panel will discuss the impact that Mexican-American based-movements have had on art, cultural and lifestyle changes in California, and how they have influenced or are influencing markets both now and in the future from Fine art and automobiles to literature and more.

11:45am - 1:00pm

Lunch

1:00pm - 2:00pm

Billing and Fee Policies for the Professional Appraiser
Rick L. Schwartz, Esq., CPA | Partner, Schwartz & Schwartz, APC

This presentation will assist you in becoming a more competent biller as a professional appraiser. The speaker's session will include: (a) reviewing the components from your fee agreement that should be included in your bill; (b) discussing the contents of a well-prepared invoice; (c) itemizing best billing practices; and (d) reviewing the psychological aspects of billing from the both client's and appraiser's perspectives. Keep in mind that the most financially successive professional appraisers are not necessarily the smartest appraisers, but, instead are the appraisers who provide their clients with the best and complete invoices for their professional services.

2:00pm - 3:00pm

Three Branches, Two Years: Understanding Legislative, Regulatory and Legal Developments
John D. Russell, JD | Strategic Partnership Officer, ASA

With the various requirements placed upon those performing tax-related appraisals, designated professionals are the standard for performing these risk-wrought assignments. But how can you take laws, regulations, and court decisions and use them when engaging with potential clients? Join John D. Russell, JD, ASA's Strategic Partnership Officer as he breaks down the layers into talking points that can help you stand out from other professionals. He'll also answer your questions and provide brief insights into where Washington may be headed in 2023.

3:00pm - 3:30pm

Break

3:30pm - 4:30pm

Auction House Mergers and Outlook for Collecting
Leslie Wright | Chairman, North America, Bonhams

This session will cover recent consolidation of auction houses, growth, and the outlook for the market and collecting.
Wednesday, May 3
Optional Post Event Tour Day
*Additional fee of $95 is required to participate in the post-event tours. To register, please select the Wednesday Add-On listed under Event Sessions on the second page of registration. Space is limited to 30 participants.
8:45am

Assemble in lobby of Kimpton Canary Hotel


9:00am

Depart from hotel for Mission Santa Barbara


9:30am - 11:00am

Mission Santa Barbara Tour
Often called "Queen of the Missions", Mission Santa Barbara has been in continuous operation since its founding in 1786. Attendees will have private tours of the mission, focusing on its fine arts and antiques.

11:00am

Trolley departs Mission Santa Barbara for downtown Santa Barbara


11:15am - 1:00pm

Lunch on your Own


1:00pm - 2:30pm

Santa Barbara Museum of Art
Meet at the steps of the Santa Barbara Museum of Art, considered to be the most significant small museum on the West Coast. Attendees will have several tour options at the Museum.

2:30pm - 4:00pm

Informal visits to Sullivan Goss Gallery and Santa Barbara Courthouse
Participants can walk to several nearly adjacent galleries or carry out a self-guided tour of the Santa Barbara Courthouse, whose 1928 murals, monumental clock and Spanish style architecture led to its naming as a National Historic Site.
(1/3 mile, 10 minute walk)

4:00pm - 6:00pm

Santa Barbara Historical Museum and Wine Reception in Courtyard
end at the Santa Barbara Historical Museum, with a private tour of their collections, followed by a wine reception in the historic courtyard.

6:00pm

Return to Kimpton Canary on your Own


(1/4 mile, 10 minute walk)



Agenda subject to change.
Full Conference
Early Bird Rates - Through February 28, 2023
$650 - ASA Member
$750 - Non-Member

Regular Rates - Starting March 1, 2023
$750 - ASA Member
$850 - Non-Member


ASA Student Member Rate - $350
If you're an ASA student member, please email education@appraisers.org to register at the discounted rate.


One-Day Only - Monday or Tuesday
$450 - ASA Member/Non-Member
Conference fee includes: welcome reception (Sunday), breakfast, lunch and breaks (Monday/Tuesday).
Firm discounts are available. Please contact Lisa Perry (lisa@meetingcreations.net) for additional details.


Guest
$75 - Welcome Reception
$325 - Reception & Meals


Optional Tour on Wednesday
$95 - ASA Member/Non-Member/Guest
To register a guest or for the Wednesday tour, please see the Add-On options listed under Event Sessions on the second registration page.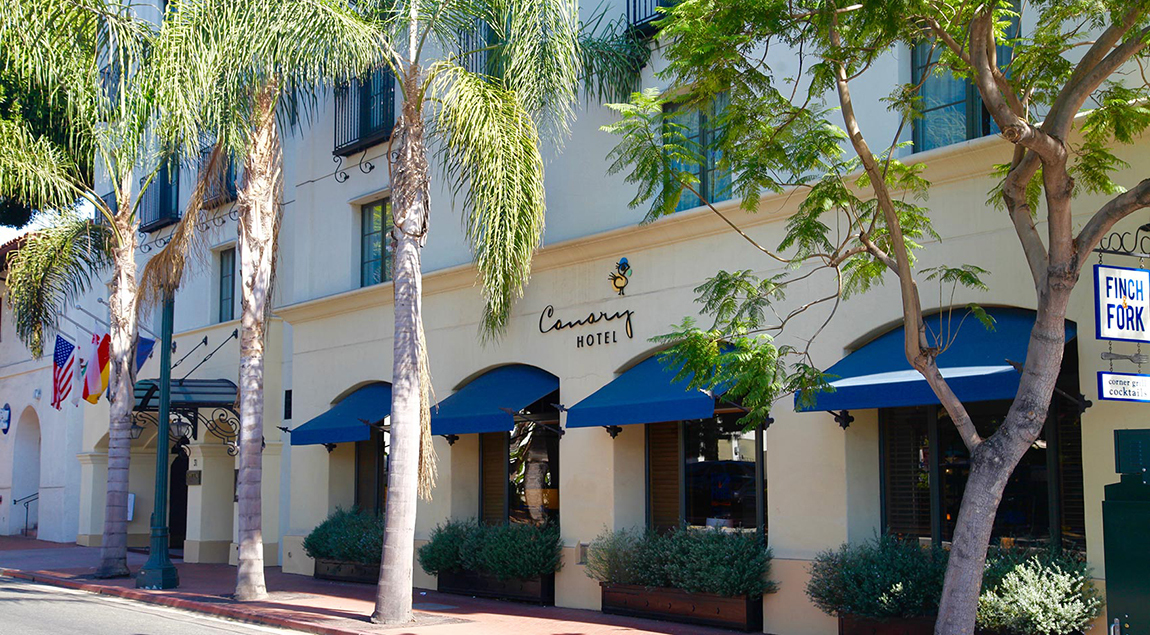 Hotel
Kimpton Canary Hotel
31 West Carrillo
Santa Barbara, CA 93101
Kimpton Canary Hotel provides the quintessential Santa Barbara hotel experience, with luxurious accommodations. The crown jewel of this Spanish-style hotel is its rooftop pool, which affords stunning views, particularly at sunset. Voted The Best Hotels in Santa Barbara by Forbes.com, 2019.

View hotel amenities, gallery, map and attractions.
Special Group Rate: $250* single/double
Reservation Cutoff Date: Thursday, April 6 (11:59pm PT)


Reservations made after the cutoff date will be subject to availability and current room rate. To make hotel reservations online, visit the ASA dedicated hotel reservation site. To make reservations by phone, contact Kimpton's Reservation Center directly at 800-368-2544. Be sure to mention ASA Personal Property Appraisal Symposium to receive the group rate.
*Plus $25 daily resort fee and applicable taxes.

Travel
Santa Barbara Airport, located a half-hour drive from downtown Santa Barbara, has more than 22 daily nonstop flights on American Airlines, Alaska, Southwest and United to 10 major destination hubs. Ground transportation is provided by two shuttle services, taxis, and ride-sharing apps. Visit Fly SBA for details.
Components visible upon registration.